During the preparation of our group exhibition, DIGITAL, it became clear that iPad drawing apps were having a big effect on artists and the types of digital works created. Certainly they are appealing to all levels of artists because of their portability and ease of use. Some of my personal iPad favorites  have come from artist David Hockney. And although one might think iPad App art is mostly for sketching, it is becoming clearer that these apps can produce a much broader range of art. I asked a few of the artists, Steve Thompson and Jordan Rodgers, from our exhibit to give us their take on App Art.
Why the iPad? or How did you get started using the iPad app for drawing?
Steve Thompson: Clean and portable the iPad became my sketchbook soon after it was launched.
As everyone knows it gives access to a huge amount of apps, some of which are dedicated to art.
My favourite app is Sketchbook Pro. which allows smooth contoured finger painting.
Jordan Rodgers: Since 2011 I've been using the iPad to push the boundaries of drawing through utilizing enhancements in modern technology that offer a new perspective in contemporary visual arts practice.
Did you do traditional media drawings before? Do you still do them?
ST: I haven't used them since taking up the iPad but by big thing was oil on canvas.
JR: I use my cross-disciplinary way of working to bridge the gap between traditional drawing and drawing on the iPad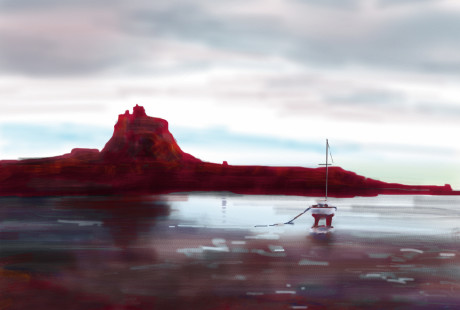 What have you found, are the advantages or disadvantages to creating drawings on the iPad?
ST: The biggest drawback is the black screen in sunlight.
The most singular, spectacular advantage to me is layers, this allows you to paint underneath an
existing layer which I've always found pretty tricky to accomplish with oil.
JR:I work fast and press hard onto the screen of the iPad, I have been known to break a number of stylus pens so nowadays I tend to work from finger touch and overall I find the latter allows for greater rhythm and flow while drawing the lines machine-gun style.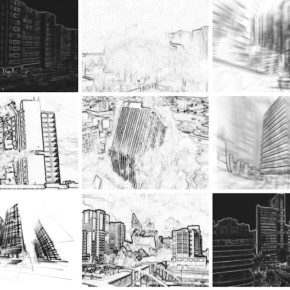 What do you enjoy most about working on the iPad?

JR: It is how we respond and react to changes in technology that I find thrilling. However, nearly everything we engage with in art at one time or another can be as much described as cutting edge. But as time goes by such technology will become old news and the validity of the artworks itself may be all that remains.
How do people normally react to you work when they find out it is digitally produced?
ST: Wow! how did you do that!  If I show them on the iPad.
When seen printed to canvas quite a few people have likened it to acrylic.
Actually, thinking about it, there hasn't been a negative comment.
JR: It is important to engage with the viewer and draw them into the process of looking. With consideration toward exhibiting my drawings on a small scale handheld device to one that through installation creates an experience almost of stepping into the environment.
How long did it take you to develop your skills on the App until you felt satisfied with the results? I am assuming you had to teach yourself the skills as there really aren't any drawing classes yet for App drawing. How did you do that?
ST: It didn't take to long before some pleasing results were coming through, if you have experience with a brush or pencils
it's only a short step to using your finger! Sorry, that was a bit glib, I quickly discovered through online forums (sketchbook pro has one) that a stylus was a much better 'finger' and that one of the joys of the internet is that so many people are incredibly generous with their knowledge.
JR: I draw as both a passion and purpose. My work was good enough for others to follow, ideally that's what that any artist wants to be isn't it? A trendsetter. It is desirable, then to be a child of the revolution under the conditions of today's technological aid by presenting a dawn of drawing in a new age.
I want to thank Steve and Jordan for take the time to ansawer a few of my questions. Make sure to check out the rest of their work and the other artists in our digital exhibition which is up on unframed.us until the end of February 2014.
For more information on them visit:
www.jordanlrodgers.com or @jordanlrodgers