Jean Wilkey
is an American artist based in New Mexico.  She earned a bachelor of fine arts and master of education degrees before embarking on a period of travel that included living and working in Honduras, Costa Rica and Israel. In 2008 she was awarded a Master of Fine Arts degree in painting from New Mexico State University. Wilkey has exhibited nationally and internationally, and her work is in private collections around the world.  She is a member of the Border Artists and is a founding member of the Praxis Collective, a group of women dedicated to artistic practice, education and scholarship. She currently lives in Las Cruces, NM and teaches drawing and painting at the University of Texas at El Paso and New Mexico State University.
www.jeanwilkey.com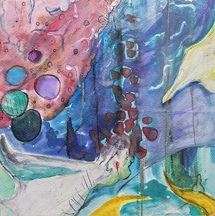 Natasha Mell-Taylor 
is a mixed media artist living in Philadelphia. She received her Masters of Fine Art from Massachusetts College of Art and Design, and Bachelors from Moore College in 2006. She has shown Nationally and Internationally including in Philadelphia, New York, London and Japan. Mell-Taylor is also the founder of Assorted in Philadelphia, a pop up gallery in the city. Natasha's paintings explore ideas of dystopian universes based on events in everyday life. Her work is influenced by pop culture, pollution, and how people interact with each other. Mell-Taylor currently teaches throughout the city including Fleisher Art Memorial and PAEP.
www.natashamelltaylor.com

Maryann Didriksen
Maryann Didriksen is a contemporary artist working in pastel and oil. Before returning to painting full-time, Maryann worked as an Art Director and freelance graphic designer. She holds a BFA from AlfredUniversity and is a signature member of the Pastel Society of  New Jersey. Maryann is a member of ArtSpace Studio, Studio  Montclair and The Center for Contemporary Art. In addition to painting she writes about her work and her struggle to balance art and life on her blog
Maryann Didriksen Painter
. She lives and works in Rockaway Township, New Jersey.
www.maryanndidriksen.com